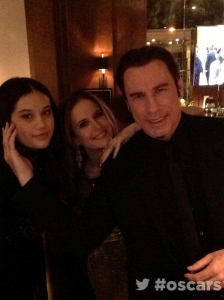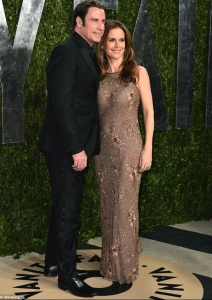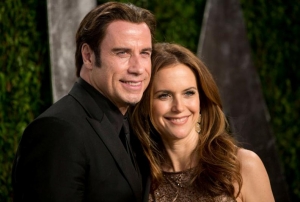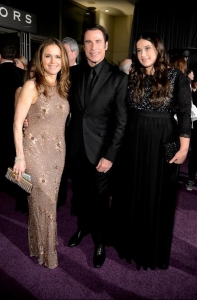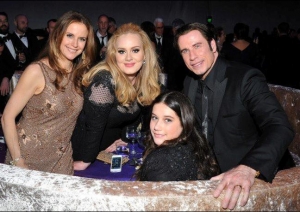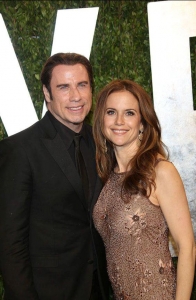 From dailymail.co.uk
And the Oscar for Best Car goes to… John Travolta! Actor rolls up to Vanity Fair party in 1960 Rolls-Royce Phantom
He may not have taken home a golden statuette at Sunday night's Oscars. But John Travolta was still winning in the eyes of car aficionados after the ceremony. The 59-year-old actor pulled up to the Vanity Fair after-party in a 1960 Rolls-Royce Phantom V, accompanied by his beautiful wife, Kelly Preston.
John Travolta and Kelly Preston rolled up in a 1960 Rolls-Royce Phantom V for the Vanity Fair Oscars after-party in Los Angeles on Sunday night. Travolta waved to fans as the chauffeured vehicle pulled up to the Sunset Tower in West Hollywood, California. Preston sat behind them, accompanied by a female friend as partygoers queued up near the valet, whipping their heads for a look at the car. The actor was grinning ear-to-ear as the couple arrived in their flashy ride.
Only 516 Phantom V's were made while the vehicle was in production, from 1959 to 1967, with many royals and diplomats known to have chosen the vehicle for their own mode of transportation. The car features a lofty four-door saloon, which has chauffeured the likes of Queen Elizabeth II. John Lennon famously commissioned his white 1965 Phantom V sedan to be painted psychedelic yellow, blue and orange in a statement of rebellion. Travolta, however, rode in a more traditional bullet grey.
Inside the event, he posed with Preston, who wore an elegant coffee coloured lace gown. Travolta waved to fans while partygoers queuing up whipped back to see his mode of transportation. The couple was joined by a host of stars at the glitzy event.
Anne Hathaway swapped her baby pink Prada dress for a dove grey floor-length dress with an embellished neckline by Saint Laurent, while Jennifer Lawrence swapped her pale pink red carpet dress for a slinkier silver plunging Calvin Klein number. Other stars to switch it up for Graydon Carter's event included Zoe Saldana, who changed from her embellished pale grey strapless gown to a plunging black number with lace peekaboo style panels.
Travolta blew a farewell kiss before he walked out of sight.
Olivia Munn, Naomi Watts, Amy Adams, John Travolta and wife Kelly Preston, Bo Derek, Liberty Ross, Solange Knowles and Maria Sharapova were also at the event. Travolta had earlier presented a movie musical montage at the 85th Annual Academy Awards.
The number featured performances from Catherine Zeta-Jones (All That Jazz, Chicago), Jennifer Hudson (And I Am Telling You, Dreamgirls) and Hugh Jackman and Anne Hathaway, later joined by the cast of Les Miserables for a live rendition of I Dreamed a Dream.
A handsome pair: Travolta and Preston posed together on the red carpet at Sunset Tower in West Hollywood, California