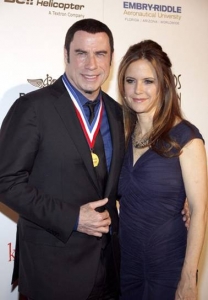 Supporting efforts to educate children on aviation and attended the Living Legends Of Aviation Awards held at the Beverly Hilton Hotel in Los Angeles on Friday (January 18).
The "Grease" star donned a black suit, blue dress shirt, and black tie while his lovely wife wore a navy blue sleeveless gown on the red carpet.
Hosted by the 58-year-old actor and pilot himself, the awards have honored Living Legends in the field such as Buzz Aldrin, Harrison Ford, Morgan Freeman, Sully Sullenberger, and Kurt Russell.
Produced by the Kiddie Hawk Air Academy, the awards also support the non-profit organization dedicated to introducing, educating, and sparking children's interest in aviation.