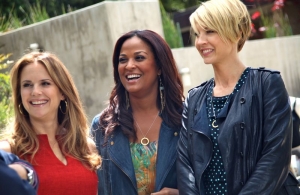 April 14th was a great day for moms and babies when actresses Kelly Preston, Jenna Elfman and former boxer Laila Ali, hosted an afternoon tea dedicated to educating and encouraging moms of all ages to make healthier lifestyle choices on behalf of their children.
Partnering up with non-profit organizations Best for Babes and Healthy Child Healthy World they all worked to create "learning stations" in every room of Jenna Elfman's beautiful Hollywood Hills home, encouraging guests to explore and educate themselves about the best breastfeeding techniques, as well as easy non-toxic living practices.
"When I first had my son 20 years ago and learned that he had special needs, I discovered that his health was directly related to the toxins and chemicals in our environment. I vowed to learn everything I could about the hidden dangers we are surrounded by on a daily basis, and I wanted to find the best ways to prevent exposure to them and to avoid bringing those toxic substances into my home," says Kelly Preston.
Ms. Ali added, "When I first started educating myself on taking care of my baby, the first thing I learned was how important it was to breastfeed; the bonding with the baby, the nutrition, the immune protection. I realized this was something I had to do, whether I wanted to or not. And I knew it wouldn't be easy, but it was a fight I had to be part of!"
As guests toured Ms. Elfman's home, they were introduced to the basics of getting a good breastfeeding start, managing milk supply, and getting help from experts in the area. There were representatives from Leading Lady on hand to help new and expecting moms with fittings for comfortable, affordable and fashionable nursing bras.
As guests entered the nursery and attached bathroom, a Healthy Child Healthy World representative was there to answer any questions and provide information on simple ways to create a safer, cleaner nursery and home by using natural cleaning products, organic body care lotions and soaps, and chlorine-free diapers.
Each room of Ms. Elfman's home featured some of the three hostesses' favorite breastfeeding & non-toxic products. As Ms. Elfman put it "Education and awareness are the first steps. No one can do everything, but everyone can do something, and every action counts."