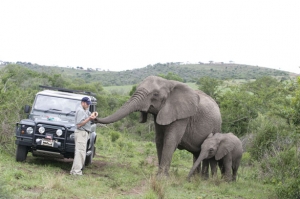 Internationally known South African conservationist, author, humanitarian and founder of The Earth Organization, Lawrence Anthony passed away on March 2. He was 61.
An acknowledged African wildlife expert, Anthony is probably best known for his bold conservation initiatives, including the internationally acclaimed rescue of the Baghdad Zoo at the height of the war in Iraq in April 2003, and his expeditions into the jungles of Southern Sudan and the Democratic Republic of Congo, in an attempt to keep the Northern White Rhino from extinction.
Between 2002 and 2004 Anthony took part leave from his conservation activities to work with South Africa's future leaders in a non political role during the evolution to democracy and appeared before Bishop Desmond Tutu's Truth and Reconciliation Commission with a submission on the root causes of racism and apartheid in South Africa.
Among his many recognitions and awards, he was a recipient of the United Nations "Earth Day Medal" presented at the United Nations in New York in 2004. Recipient of the Earth Society "Earth Trustee" award presented at the United Nations in 2004 and he was an international member of the esteemed Explorers Club in New York.
For his bravery and initiative in the rescue of the Baghdad Zoo during the Iraq War in 2003 Lawrence was recognized by both the US and Iraqi governments and he was honored with the US Army 3rd Infantry Division "Regimental Medal". This medal is only awarded during active service.
In 2007 Lawrence submitted the Wildlife in Warzones draft resolution to the United Nations in New York. The draft resolution obliges member states to protect wildlife and the environment in war zones and to treat zoos, game reserves, marine parks, veterinary facilities and game rangers as illegitimate targets of war. The resolution is being actively pursued internationally and is finding strong support and traction amongst member states.
Lawrence was the founder of the Earth Organization, an independent international conservation and environmental organization with a strong scientific orientation. Earth Org as it is popularly known has its head office in South Africa and operates in seventeen countries.
At a presentation in Washington, DC, respected author and journalist Tom Clynes named Lawrence amongst his six most impressive and influential people in a lifetime of reporting. Other names on the list include such luminaries as Sir Edmund Hilary.
Anthony was owner and long standing head of conservation on the Thula Thula Game reserve in Kwa Zulu Natal South Africa. Thula Thula is the oldest private game reserve in Kwa Zulu Natal.
He leaves behind his wife Francoise, his two sons and two grandsons.
See the CBS video of the Baghdad Zoo rescue: