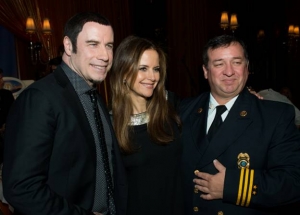 With Travolta, Ocala firefighter offers detox testimony in Las Vegas

After 22 years of fighting fires and rushing to vehicle crashes, Joe Talley's knees hurt. A lot.
He was taking gobs of Ibuprofen a day, he said. And at 41, he wasn't in the best physical shape, either. Reports of cancer among older firefighters and the effects of the toxins they take in also had the Ocala Fire Rescue chief concerned.
So, in 2010, he participated in a detoxification program launched by actor and Anthony resident John Travolta. This is a non-denominational, wellness program rooted in Scientology that relies heavily on frequent saunas, niacin and aerobic exercise.
Talley and about 15 other local emergency responders embarked on the intensive, month-long treatments designed to rid the body of toxins and, generally, make humans feel much better.
"About two and a half weeks into it, I noticed my knee pain had disappeared," said Talley, now 44. After his 33-day detoxification, he contends he simply "functions better. Period. I had a clearer thought process, which is important in my job. People's lives depend on it."
He is sold on detoxification and, as such, joined Travolta and Kelly Preston, the actor's wife, Saturday to speak at a Heros Health Fund fundraiser in Las Vegas. Talley and a Utah police officer spoke to about 100 potential donors. There was a standing ovation, he said. And, Travolta noted, the event raised more than $400,000.
"That will put 70 first-responders through the detox program," Travolta said, noting up to 30 of those slots are expected to be in Marion County.
Travolta praised Talley's address.
"He gave a speech to inspire others, so it was a wonderful gesture on behalf of Ocala's division," the actor said, noting Talley's words were powerful and effective. "He did it with sincerity and reality and truth. Here's a guy who got real benefits from this."
Detoxification has long been a Scientology staple, but Travolta saw a wider need after the Sept. 11, 2001, attacks.
"Not too long after that, we started a detox center right in Manhattan for the first-responders," he said. "Tom Cruise (a friend and fellow Scientologist) was involved. We were very successful … The jet fuel and the burning debris of those buildings, and the chemicals used in handling it, immediately affected these guys."
Travolta was then in the 2004 firefighting drama "Ladder 49," where he got to know many Baltimore firefighters. He noticed they spoke of the same ailments.
"I said, 'Whoa, I've got to do something about this.' But they could not afford to do it. I thought, well, I'll just open up a center for them," Travolta said. "They went for 25 or 30 days and came out with stellar results."
When his family moved to Marion County a decade ago, Travolta heard similar stories from local first-responders. He and Preston launched the Marion County program in 2010 with $26,000 they raised at their Ocala "From Paris With Love" movie gala.
"When Ocala did so well, we decided to do it in Utah (Salt Lake City)," he said, noting that the latest program was started in Las Vegas. "The police are exposed to meth houses. The firemen are exposed to smoke and its toxins. (The detox programs) are free for first responders. These guys are modestly paid. They have to get permission to take off work to do it. The combination of getting time off and affording to do it needs to be subsidized."
Detoxification has critics who contend it is unproven. Talley said city medical staff were initially concerned about the amount of time first responders would spend in the sauna. But, he said, there was medical supervision with blood draws part way through the process.
The detoxification program, Talley contends, went beyond eliminating knee pain, boosting energy, improving his complexion and honing mental clarity after his days of sweating out toxins. It sparked a lifestyle change. These days, he does CrossFit training, he said, and purchased a portable, infrared sauna he uses two or three times a week in his home.